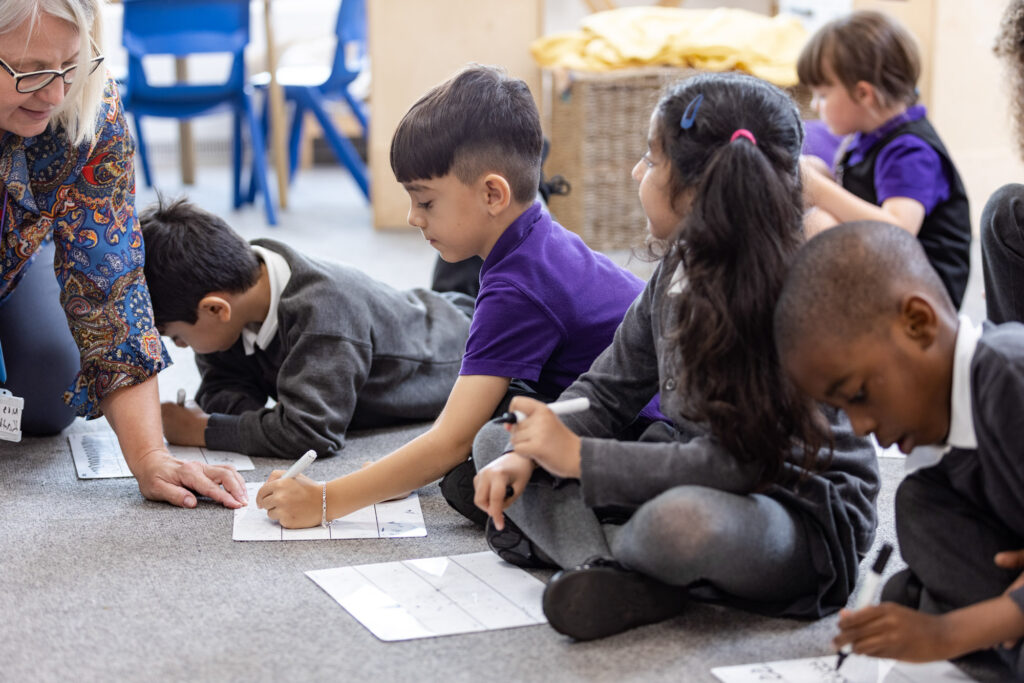 Hello and Welcome to Year 2!
We're looking forward to a wonderful summer term with your children.
Mrs Deer, Miss Shields and Miss Hughes
Summer Term 2022
This Summer term we're starting our Topic learning on Eyam village and the plague. We will learn what life was like hundreds of years ago, what the plague was and how the people of Eyam tried to stop the plague from spreading.  In the second part of the Summer term, our focus will be geography and we will be learning about our local area.
In Literacy, we will be continuing to use the Talk for Writing approach in class and will be finishing off our work on explanation texts at the beginning of this half-term.  We will then move onto the story 'The King with Horse's Ears' and after that we will be writing recounts. We regularly assess your child's writing skills throughout a unit of work and formally at the start and end of a topic.
In our reading lessons, we will be continuing to read a variety of text types and books. Fluency and comprehension are very important and this is something which can be helped by 10 minutes reading at home every day. Your child will have the opportunity to independently choose their reading books on a Monday and Thursday.  We do guided reading sessions each day and your child is heard twice a week to check their progress in reading. Children are moved colour bands when they are ready to be challenged by the demands of the next level. We formally assess your child three times a year using a reading assessment but informal assessment takes place every day.
In Maths, we will continue to use the White Rose curriculum.  To begin with, we will be learning how to read the time to o'clock, half past, quarter past and quarter to.  We will also be consolidating our learning from this year.  In Year 2, children are expected to be secure with their 2, 3, 5 and 10 times tables.  This is something that children could continue to practise at home.
In the first part of the term, we will be learning about Plants in Science. Our focus will be identifying different types of plants, finding out what plants need to grow and making observations and describing how bulbs and seeds grow into mature plants.
This half-term in PSHE, our focus will be RSE.  We will look at growing up, our body and what is fair or unfair. We will also continue with our Five Ways to Wellbeing and our focus will be 'Be Active'.
Our PE sessions will continue to be on a Tuesday and Wednesday. Please ensure that your child has their PE kit in school on these days.
Our school PE kit is: A white t-shirt and black shorts or tracksuit bottoms and trainers or pumps.  Please make sure that your child's PE kit is labelled with their name.
Timetable
9.05am – 9.15am: Register / F & M No of the Day
9.15am – 9.40am: Guided Reading
9.40am – 10.30am: Literacy
10.30am – 10.45am: Break
10.45am – 11.30am: Maths
11.35am – 12.00am: Phonics
12.00am – 1.00pm: Lunch
1.00pm – 1.15pm: PHSE / Circle Time
1.15pm – 2.30pm: Topic
2.30pm – 3.00pm: Celebration Assembly
3.00pm – 3.15pm: Story Time / End of The Day
9.05am – 9.15am: Register / F & M No of the Day
9.15am – 9.40am: Guided Reading
9.40am – 10.30am: Literacy
10.30am – 10.45am: Break
10.45am – 11.30am: Maths
11.35am – 12.00am: Phonics
12.00am – 1.00pm: Lunch
1.00pm – 1.15pm: Handwriting
1.15pm – 2.00pm: Computing
2.00pm – 3.00pm: P.E
3.00pm – 3.15pm: Story Time / End of The Day
9.05am – 9.15am: Register / F & M No of the Day
9.15am – 9.40am: Guided Reading
9.40am – 10.30am: Literacy
10.30am – 10.45am: Break
10.45am – 11.30am: Maths
11.35am – 12.00am: Phonics
12.00am – 1.00pm: Lunch
1.00pm – 1.15pm: Handwriting
1.15pm – 2.15pm: P.E
2.15pm – 3.00pm: Topic
3.00pm – 3.15pm: Story Time / End of The Day
9.05am – 9.15am: Register / F & M No of the Day
9.15am – 9.40am: Guided Reading
9.40am – 10.30am: Literacy
10.30am – 10.45am: Break
10.45am – 11.30am: Maths
11.35am – 12.00am: Phonics
12.00am – 1.00pm: Lunch
1.00pm – 2.00pm: Music
2.00pm – 3.00pm: R.E
3.00pm – 3.15pm: Story Time / End of The Day
9.05am – 9.15am: Register / F & M No of the Day
9.15am – 9.30am: Singing Assembly
9..30am – 9.55am: Guided Reading
9.55am – 10.30am: Grammar Hammer / Literacy
10.30am – 10.45am: Break
10.45am – 11.30am: Maths
11.35am – 12.00am: Phonics
12.00am – 1.00pm: Lunch
1.00pm – 2.00pm: Science
2.00pm – 3.00pm: Art / D&T
3.00pm – 3.15pm: Story Time / End of The Day