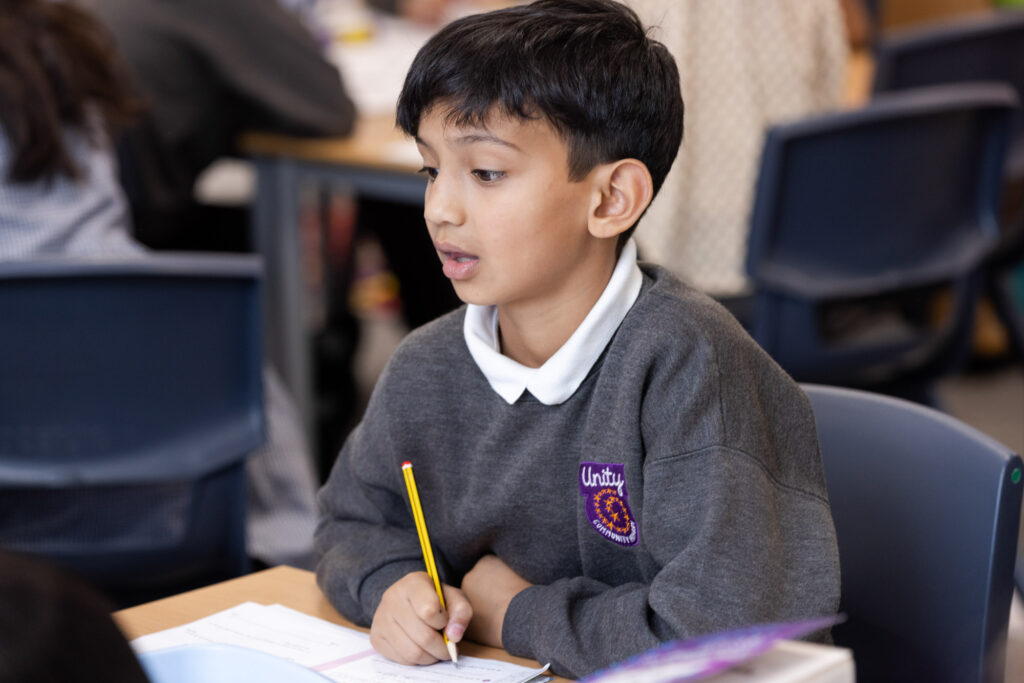 Hello and welcome to Year 6!
My name is Mr Cook, the Year 6 class teacher, and Ms Afroze is our teacher assistant. Together, we are passionate about creating a focused and nurturing classroom that encourages confidence and builds independence. As the children enter their final year at Unity, we will be preparing them for their SATs tests, as well as life at secondary school.  
We are very excited to be teaching your children this year and please don't hesitate to speak to any of the Year 6 team if you have any concerns.
Happy New Year!
I hope that you and your family had a wonderful break and the children are ready for their final term before SATs. Whilst myself and Miss Afroze will continue to lead Year 6, Miss Patrick has left Unity to have her baby. Therefore, Mr Gonthier will be taking over her role as the phase leader for years 4-6 and will be supporting these classes with their learning and well-being.
This Spring term our History topic will be Benin. This is such an exciting and interesting topic which we're sure the children will love learning about. We'll learn all about how fascinating this African civilisation was; their religion, rituals, rulers and their downfall. In Geography, we will be learning about time and development. This unit will focus on time zones, hemispheres and also allow pupils to practice recording data in a variety of ways.
In our Writing we will be looking at writing a narrative based on the book Holes by Louis Sachar. We will also explore twisted fairy tales where pupils will put their own modern twist on a traditional story. We will focus on using a range of punctuation such as relative clauses, colons, semi-colons, dashes and inverted commas. To support pupils with this, please continue to read with them at home, so that they can explore the rich variety of vocabulary and punctuation found in novels.
In Maths for this term, we'll look fractions, decimals and percentages, as well as algebra and revising for the SATs. We will also continue to focus on being able to reason worded problems, around our mathematical knowledge. This is really important as there are two reasoning SATs papers.
Our PE sessions will now be on a Monday and Friday afternoon with a focus on team building and strategy. As the children are in Year 6, it is their responsibility to remember their kit each week as this will prepare them for Year 7.
Our school PE kit is:
A white t-shirt and dark coloured shorts or tracksuit bottoms and trainers or pumps. Can we ask for no cropped T-shirts or bright coloured PE kits and no jewellery.
Homework:
In Year 6 we will send your child home with a list of either English or arithmetic questions each Friday, this is a good opportunity to revise anything we have learnt in our lessons. There will also be a list of spellings which pupils will be tested on weekly. We will also send home a 'Homework Menu' each half term, which is a list of activities related to our learning in class. Your child may choose some or all of these activities to complete at home then bring into class.
SATs
The SATs week this year will be Tuesday 9th May until Friday 12th May. More information will be given out closer to the time. Please make sure you are reading with your child and completing homework each week as this will greatly support their SATs learning.
Reading books:
A teacher or teaching assistant will listen to your child's reading at least 3 times a week. Please can you listen to your child read to you at home as often as possible (ideally for 5 minutes every day) and then write a comment in their reading record books. Please can reading books come into school every day so children can regularly read and change their books; this really helps their reading progress quickly!
Jewellery:
Please note, only stud earrings and a watch are allowed in school. No rings, dangly earrings, necklaces or bracelets. We appreciate your child may want to wear them, but it is for health and safety reasons. Thank you for your cooperation.
If you'd like to talk to any of the Year 6 team, please look out for us in the playground before and after school. We are always happy to speak to you about any concerns you may have.
We're looking forward to a fantastic year with your children.
The Year 6 team,
Mr Cook and Miss Afroze